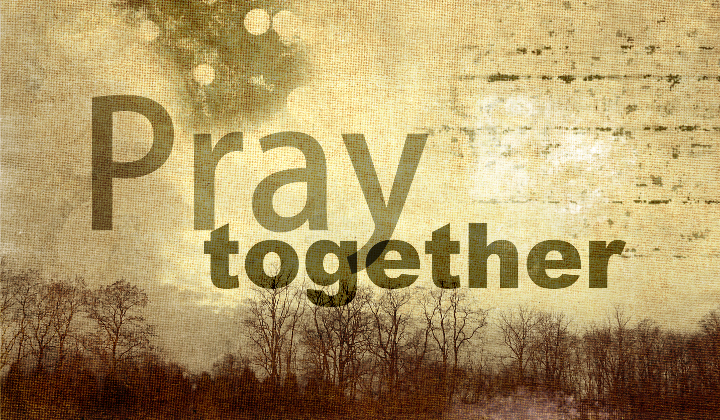 A very wise young person I work with encouraged us today to bathe our days in prayer in preparation for the next chapter of Crossroads. The enemy would love nothing more than to crush us - distract us with trivial struggles or side-rail us completely as we enter this next phase.
This young friend is wise beyond her years - and one by one today the staff went around the room and talked about the area they wanted prayer for, or the area they felt responsible for and what they considered the very most important ministry areas to cover with prayer.
It was moving, as it came to me I couldn't even speak as I choked out the words that caught in my throat - as I thought about the deep-deep passion I feel to pour my life into every aspect of what's presented from the stage at Crossroads. I was overwhelmed by the burden I feel for our congregation and for our community.
Each word that's spoken, each song that's sung- I scrutinize over changing even the most tiny detail until finally being satisfied with it, until I finally feel it's worthy to be placed before the King of Kings.
There's great debate whether it's better, perhaps even more spirit filled - to be more fluid and 'let it happen' vs. the 'highly organized' version of worship services. When His Word talks about offering Him our best I believe it also applies to the preparation that goes into presenting the Word of God - maybe even more than any other setting...I don't know.
I only know, I lose sleep at night, I analyze everything and my heart REJOICES when I see the brilliant staff we have around us - leading us fearlessly and confidently into yet another weekend of worship. NOTHING except a soul won for eternity pleases me more.
I love the unselfish way the entire staff serves the ministry as a whole and celebrates any accomplishment no matter who it is. Anyone who holds someone else back or doesn't offer everything they possibly can toward making them successful should step aside in leadership. Pushing others past you should be the goal. Cheering them on - celebrating their success - and then stepping into whatever God opens up for
you
.
And so tonight I not only cover my own area of ministry in prayer - I pray for us all. I pray for intense unity and a time that pleases the Lord like no other. I thank Him for my fellow staff members and the amazing support from all our volunteers and Crossroads' friends! And I can't wait to worship tomorrow at Crossroads!!! See you there!